Standardized production process
La Mundial de Coco SRL guarantees a constant production of eco-renewable fiber and pith of the coconut, homogeneous in its composition and of high quality; characterized by constant chemical, physical and structural parameters of the batches produced and marketed, to allow our customers to do the best planning and timely management of their activities.
Milling and defibration after a period of natural stabilization of the husk of mature coconut's shell. This first processing is carried out with suitable mills developed to ensure better quality and uniformity to the production.
Washing, a dedicated processing phase of fundamental importance for professional use in the horticulture, floriculture, and plant nursery sectors. This is carried out with a line of washing and mechanical pressing which allows to remove the concentration of excess salts and to obtain the values of the electrical conductivity, required by the customer for the specific application.
Drying and sterilization, this phase is performed using an oven with a rotating drying cylinder through which hot air at 550 °C and saturated water vapor at 120 °C pass.
Mechanical Screening and Pneumatic Dedusting carried out by cyclones, rotary screens, and vibro-tilting screens. This is a phase of fundamental importance, mainly for two reasons:
It allows improving the homogeneity of the production by separating the different dimensional fractions derived from the milling of coconut husks.
It allows the separation of fines or talc, particles with a diameter of less than 0.25 mm, and of particularly fine fibers that create skeins.
Pressing and Packing: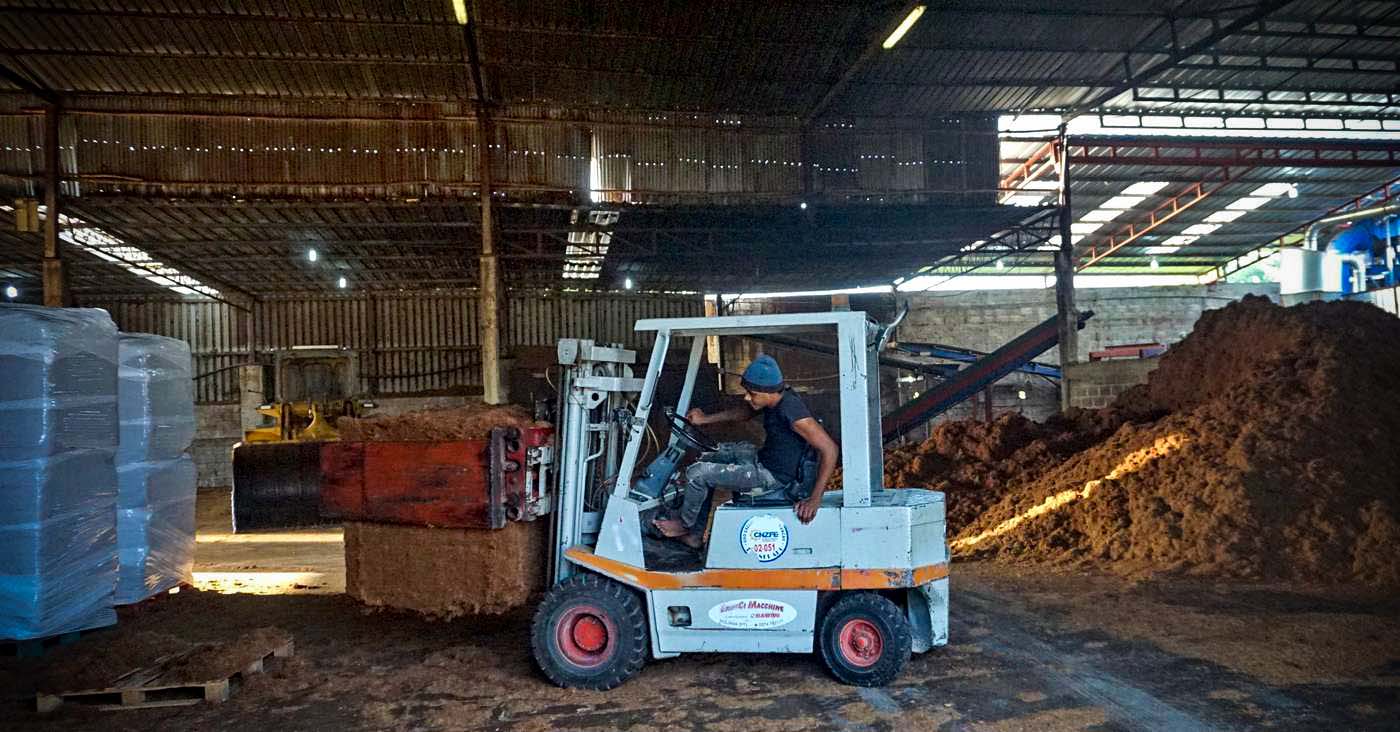 5kg blocks or tiles of 30x30x14
Jumbo presses 110x105x115
Big Bag of 90x90x210, ready-to-use product
Bags of 50 x 80 x 15, ready-to-use product
Storage, from the start of the processing and throughout the production process and subsequent storage and loading of the container, the material is processed in special closed and covered structures, in order to prevent environmental contamination such as stones, earth, sand, weed seeds, and pathogens, to guarantee greater safety of use.
Distinctive Features
Industrial processing in clean conditions, with quality control, homogeneity, and standardization of the production.

Continuous production, non-reliance on weather conditions.

Flexibility and ability to meet customer requests.

Strategic geographical position, located in Central America, La Mundial de Coco SRL can easily supply the United States and the European market, accessing extremely competitive sea freight.

Quality Certification
In order to guarantee the chemical-physical parameters agreed with the customer, La Mundial de Coco carries out all quality checks directly in its laboratory. These are made through standardized procedures that allow tracing the entire production process of each batch produced.
Each batch in production is subject to quality checks through repeated daily analysis carried out according to international reference standards, to guarantee uniformity of evaluation of the measured chemical-physical parameters.
Each batch shipped is accompanied by a Phytosanitary Certificate issued by the Ministry of Agriculture, which certifies the type of the material and its sterility.