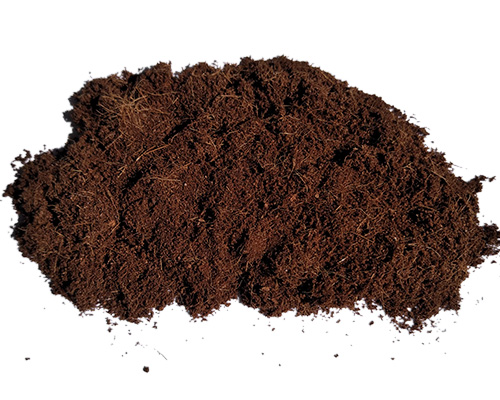 Composition: A product obtained solely from the processing of the stabilized coconut husk, not chemically treated, 100% natural material eco-compatible and eco-renewable, allowed in organic farming.
Washed, dried and sterilized material characterized by an excellent chemical and physical stability and resistance to degradation.
Physical properties:
Average humidity: 40 % ( ± 5 %)**
Organic matter (% weight): 96 - 98 %
Bulk density: 95 - 105 Kg/m³
Porosity (porous volume fraction): 90 - 95 %
Dried and sterilized product: saturated water vapor 120°C= 248° F
hot air 550 °C= 1022°F
Granulometry: 1- 5 mm (average)
Foreign bodies (sand, soil, stones, seeds, etc.): absent
* (test method: extraction in demineralized water 1:1,5 in volume)
**(optimal as it facilitates the development of the mix, with the addition of 850-950 lt /MT water, combined with the homogeneous mixing of fiber / chips, and pith)
**(hygroscopic product subject to variations of humidity, weight and volume)
Mix Volume Ratio (± 5 % ):
Chemical properties:
Electrical Conductivity: ≤ 0,5 mS/cm*
pH: 5,8 – 6,2*
Subject: Production of coconut coir and fiber for growing media
We hereby inform you that the company La Mundial De Coco Srl produces coconut coir and fiber according to formulae that are registered in our quality system.
Our products are free from pathogenic nematodes, Phyto-parasites that are dangerous for crops, production takes place with the use of raw materials "not from protected areas".
The raw material used in full compliance with the criteria for ecological quality does not fall within the places classified as sites of community importance (SCI) or from geographical areas identified in the Natura 2000 network.
The reference in question, pursuant to REACH and Directive 1999/45 / EEC and subsequent amendments, is not considered to be dangerous goods.
Simple non-composted vegetable soil improver
Humidity: 40%
pH: 5,8-6,2
Carbon (C) of organic origin on a dry basis: 48%
Nitrogen (N) organic on a dry basis: 3,45%
Salinity: ≤ 0,5 dS/m
Granulometry: 1 - 5 mm
Allowed in organic farming
Sterilized: Phytosanitary Certificate by the Ministry of Agriculture
Raw materials: 100% Cocus Nucifera
"The product is guaranteed for Ethics in the processing and sales process: No child has worked in the production chain. Manufacturing, packaging, and distribution are carried out with the exclusive use of adults"
Applications:
Optimal for the preparation of soils for professional, used in mixing with other soil improvers, it can also be used as such as a growing medium, indicated for germination, cutting rooting and growing small potted plants.
Packaging:
Container load 40''HC:
Pallett: N.20
Weight: 1100-1200 kg/pallet; 22,000-24,000 kg/container
Description: 2 Jumbo Presses / pallet (110x105x115 cm):
a) Palletized or without pallet (for tip-up unloading)
b) Packed with rope
c) Addition of UV stretch film (on request)
| | |
| --- | --- |
| Double jumbo press palletized | Unloading tip-up container |
The above information was obtained through our knowledge, agronomic elements firmly established today, constant quality controls and collaboration with our customers, however, we reserve the right to introduce changes if variations are found. La Mundial de Coco SRL cannot be held responsible for any adverse consequences derived from any improper use of this product.